INTRODUCING THE SECTION
The performance of combine harvesters, as well as the width of harvesting adapters continuously increases, but despite this, combine harvesters are not able to evenly distribute crop residue along the entire width. Therefore, we offer straw harrows with a working width from 20 to 40 feet in the area of crop residue management.
WHAT IS THE STRAW HARROW FOR
The straw harrow is designed for initial crop residue management after the catch crop has been harvested. The aggressive rods evenly distribute crop residue in the field to allow for its even incorporation during the next soil cultivation method. The straw harrow can also be effectively used for the first shallow stubble breaking, establishing catch crop, soil preparation, opening and warming up soil in spring, or aerating permanent grassland or cereal stands.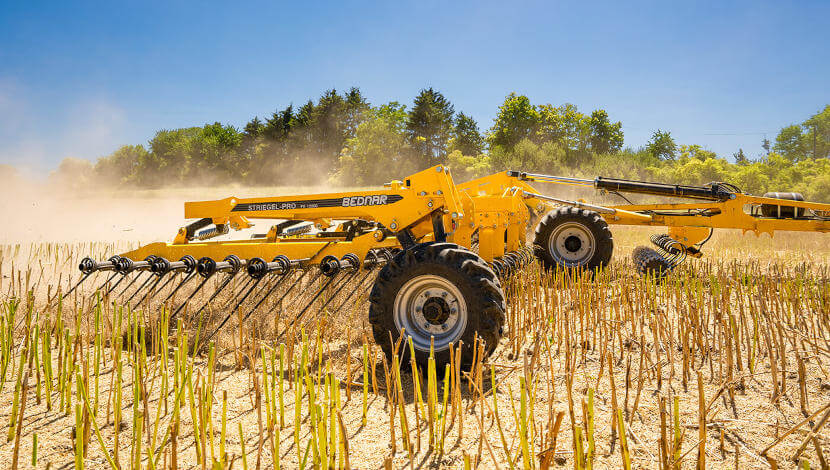 MAIN ADVANTAGES OF BEDNAR SEEDBED CULTIVATORS
The advantages of the STRIEGEL-PRO straw harrow include the option to independently set the working angle of the first and second section of the rod rows. Then, there is the independent suspension of the individual sections that contributes to higher quality of work, especially in a rugged terrain. And last, but not least, there is a wide range of front equipment available.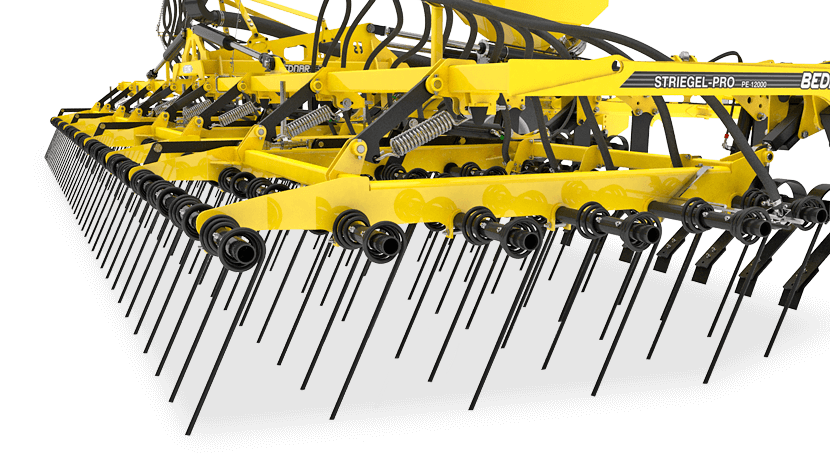 MOUNTED STRIEGEL-PRO PN STRAW HARROW
The model line of the mounted STRIEGEL-PRO PN straw harrow is available with a working width from 20 to 30 feet. This version is suitable for aggregation with tractors with a horsepower from 80 to 220. The straw harrow can be equipped with the front Trash Cutter roller, the Crushbar leveller, or the cutting TURBO coulters.
More about STRIEGEL-PRO PN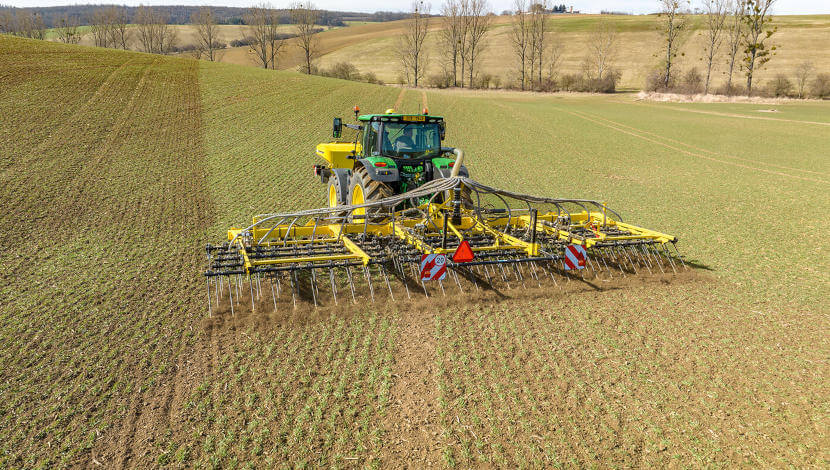 TRAILED STRIEGEL-PRO PE STRAW HARROW
The trailed STRIEGEL-PRO PE straw harrow provides a working width of 12 metres. The machine is able to achieve a high daily output. The trailed straw harrow offers a wide range of use throughout the year. To improve the quality of work, it can be equipped with the cutting TURBO coulters, or the Crushbar leveller.
More about STRIEGEL-PRO PE