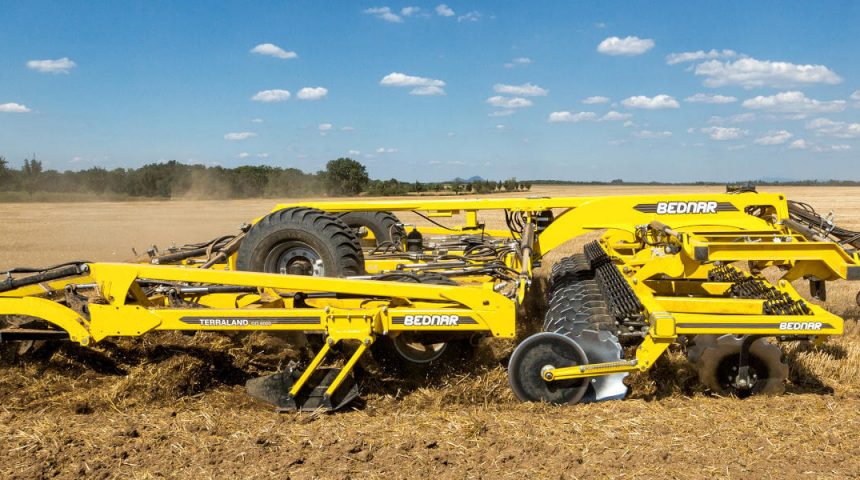 INTRODUCING THE SECTION
The combined chisel plough combines two operations in one pass. It is suitable for incorporating large quantities of crop residue and organic matter, in combination with reviving the soil profile. For this operation, we offer the TERRALAND DO combined chisel plough.
WHAT TO USE A COMBINED CHISEL PLOUGH FOR
The combined chisel plough combines disc and chisel sections. The disc section cuts and mixes crop residue with the topsoil layer. The chisel section provides deep soil cultivation, up to a depth of 18 inches.
This type of machine is suitable for intense soil cultivation within minimization technology.
MAIN ADVANTAGES OF the TERRALAND DO COMBINED CHISEL PLOUGHS
The TERRALAND DO can process soil up to a depth of 18 inches thanks to the extremely robust basic frame. The chisel section can be equipped with two types of tines: Active-Mix for deep loosening including mixing, and Zero-Mix for soil aeration and disruption of hardened particles without active mixing.
If needed, the front disc section can be deactivated, and only deep loosening or subsoil tillage can be done.
The TERRALAND DO COMBINED DISC-CHISEL PLOUGH
The TERRALAND DO combined chisel ploughs are designed for aggregation with the most powerful tractors on the market and they are manufactured in three versions, with a working width from 13 to 21 feet. The smart structural design of the TERRALAND DO chisel plough makes it possible to deactivate every other tine.
By deactivating the chisels, it is possible to do ridge tillage before establishing wide-row crops, or reduce the demand on the tractor power when conditions are difficult.
More about TERRALAND DO